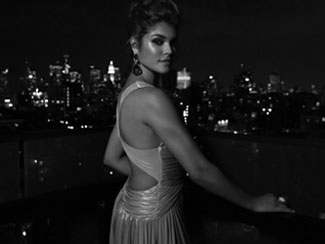 Body contouring in NYC involves the use of various cosmetic surgical techniques to help men and women get rid of unwanted fat and achieve a slim, smooth shape. One popular procedure is arm lift surgery (brachioplasty) which provides an aesthetically pleasing arm contour. This procedure is done to minimize the appearance of flabby upper arms, the condition called "bat wings". Saggy underarms could occur when you gain weight and then lose weight, causing the skin to stretch, not exercising the upper arm area, aging and break down of muscle tone, and gravitational force.
In May 2017, MailOnline reported that American actress and model Donna D'Errico revealed she had four major plastic surgery procedures – arm lift, tummy tuck, liposuction and fat transfer buttock augmentation. Her pregnancies had resulted in excess skin on the stomach and weight gain and loss over the years left her with excess skin on the upper arms. After she successfully underwent body contouring treatment and arm lift surgery, she regained the confidence to don a bikini.
New York City plastic surgery practices provide safe and effective minimally invasive liposuction treatments using advanced devices such as BodyTite, Smartlipo Triplex, and VASERlipo. The plastic surgeon will recommend the right modality to address flabby upper arms based on individual considerations. While conventional arm lift surgery leaves scars, these unique, minimally-invasive liposuction techniques do not.
For example, BodyTite use radio frequency energy to remove and tighten sagging skin without leaving any permanent scars. The plastic surgeon inserts the BodyTite radiofrequency (RF) probe through a small incision made on the upper arm skin. The RF energy gently liquefies the unwanted fat cells, allowing them to be easily removed using a cannula. In addition to removing fat, the procedure simultaneously tightens the skin and coagulates the tissues, which helps the surgeon contour the arms to achieve a slim, toned, and youthful-looking appearance. To view the remarkable results of arm lift surgery performed using BodyTite, check out Scarless Female Arm Lift – Before & After Photos
The key benefits of this procedure include:
Immediate skin tightening
Less swelling and bruising
Shorter downtime
Minimal discomfort and pain
Use of local anesthesia
Personalized care
An ideal candidate for a scarless arm lift is a person who has sagging upper arms, but good skin elasticity and a stable weight. Age, obesity, and smoking habits are also some of the factors that a plastic surgeon in NYC will consider when evaluating a candidate for this procedure. Most patients resume their normal activities within a few days after the treatment.
Having your arm lift performed by a well trained plastic surgeon in NYC, is important. With an experienced surgeon, you can expect safe treatment and long-lasting arm contouring results.