Dr. Christopher Chia and Dr. Spero J. Theodorou, bodySCULPT plastic surgeons will participate and speak at the 22nd Annual Dallas Cosmetic Surgery™ and Medicine Meeting scheduled to be held on March 20 and March 21, 2019 at the Westin Galleria Dallas, Dallas. The Dallas Cosmetic Meeting brings together a world-class faculty and the program includes presentations, live demonstrations, panel discussions, pre-recorded video, and Q&A sessions with audience participation. The meeting aims to instruct physicians and residents on how to achieve safe and reproducible aesthetic results.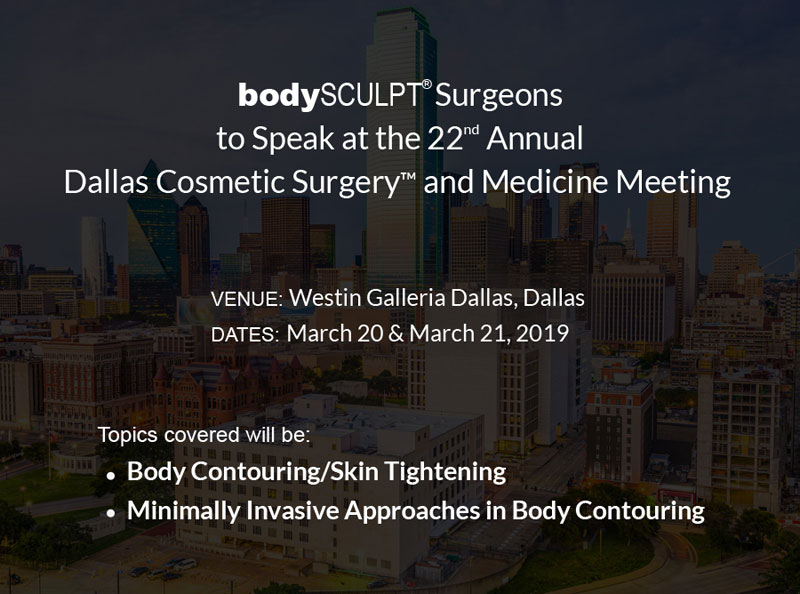 On the first day, March 20, 2019, the focus will be on cosmetic medicine and attendees can benefit from exposure to new technology and patient safety in lasers, non-invasive fat removal, skin tightening, and dermal fillers among other topics. Dr. Chia would speak on the following topics:
Body Contouring/Skin Tightening: "Non-Invasive Rejuvenation – Where it Works Best and Why" – 8:00 – 8:20 am
Minimally Invasive Approaches in Body Contouring: "What Is the Next Revolution in Body Contouring" – 9:30 – 9:55 am
The Dallas Cosmetic Meeting is designed for board-certified physicians who are interested in learning the latest techniques and advances in surgical and non-surgical facial rejuvenation, as well as breast and body contouring surgery. It will highlight new innovations and technology in a variety of topics including skin tightening and non-invasive fat removal, lasers and skin discussions featuring approaches to scars and tattoos, fillers and neuromodulators, combination therapies, practice management, social media and much more. The spotlight will be on controversies and innovations in facial, breast and body contouring procedures including the use of fat for augmenting the face, breasts and buttocks.
The target audience expected to attend this meeting includes:
Plastic Surgeons
Facial Plastic Surgeons
Otolaryngologists
Oculoplastic Surgeons
Dermatologists
Non-physician Providers (registered nurses, physicians' assistants, nurse practitioners, skincare aestheticians, injectors) – working in the office of a board-certified physician in the specified areas
The major purpose and content of this meeting includes:
Attendees will become familiar with the latest techniques and advances in cosmetic medicine.
The focus will be on controversies and advances in face, breast and body contouring procedures.
Interactive discussions will concentrate on surgical and non-surgical options for facial rejuvenation and autologous fat grafting.
Attendees will be able to view demonstrations of the latest injectables and technology.
The cadaver lab will include one-on-one instruction from leading cosmetic surgeons presenting cutting-edge techniques.
Dr. Chia will be present in various panels, including a live Instagram session along with other renowned plastic surgeons.