Facial cosmetic surgery has gained popularity in recent years with the development of nonsurgical facial skin rejuvenation techniques. Healthy, midlife women who want to look as young as they feel seek cosmetic surgery to minimize wrinkles and rejuvenate the face. Today, most people want to achieve their aesthetic goals quickly and painlessly, which also has increased the demand for noninvasive and minimally-invasive procedures. InMode EVOKE treatment in NYC, one of the latest additions to nonsurgical facial remodeling options, uses proprietary radiofrequency (RF) technology to remodel facial tissue safely and effectively.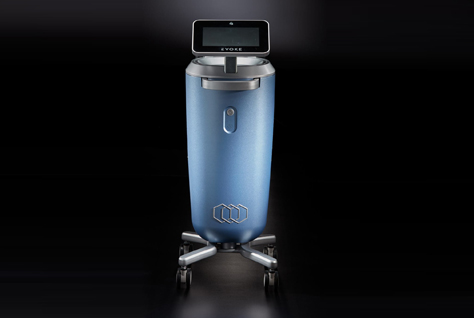 InMode's Evoke is the first and only all-in-one, hands-free facial remodeling device. This FDA-cleared, non-invasive facial remodeling platform delivers a structural re-organization of the facial and neck tissues resulting in a three-dimensional remodeling. This state-of-the-art thermal skin rejuvenating platform uses proprietary radiofrequency (RF) technology to gently target areas such as the cheeks, chin, and neck. With its hands-free design and programmable technology, it remodels the skin and subdermal tissue with no surgical intervention, anesthesia, surgical scars or downtime. Plastic surgeons in NYC offer a variety of customizable facial aesthetic treatments using this innovative device.
The benefits of EVOKE are:
Nonsurgical remodeling of facial tissues
Rejuvenates facial appearance without anesthesia, surgical scars or downtime
Delivers uniform and volumetric heating, avoiding risks of overtreatment or undertreatment.
Ideal social distancing option as face-to-face contact between the patient and physician during the procedure is reduced.
Designed with patient safety in mind, the features of EVOKE include:
Temperature monitoring and automatic, user-programmable, temperature on/off control.
Built-in real-time audible indicators sound when the optimal temperature is reached, providing feedback on treatment progress.
A Patient Call Button to allow patients to easily pause treatments and have clinical staff make any adjustments required.
The hands-free design and programmable technology allow safe reallocation of physician and clinical staff time to other patients and treatments while Evoke is in use.
The treatment screen enables physicians to visually monitor the thermal effect of each applicator at any point during the procedure.
Color-blind RF technology ensures it can safely and effectively be used on all skin types.
Patients can surf the internet, read a book, or watch TV while treatments to restore youthfulness are being performed.
Pre-set treatment parameters allow controlled 100% energy concentration at critical temperatures and support optimal soft tissue remodeling. If the skin temperature reaches a threshold level, RF energy is temporarily suspended to the device's specific applicator, protecting the skin from burns. With this one platform, physicians can provide facial remodeling procedures specifically tailored to patient demands.
bodySCULPT®, a leading plastic surgery practice in Manhattan, New York City (NYC), is one of the first plastic surgery centers in the U.S. to utilize EVOKE technology. bodySCULPT's Dr. Spero Theodorou, who is also InMode's Chief Medical Officer is responsible for the development of all of InMode's procedures, clinical studies and training. Dr Christopher Chia, surgical director of bodySCULPT, is a leading double board-certified aesthetic plastic surgeon in Manhattan and an expert in performing a wide variety of cosmetic surgical and nonsurgical procedures. A recent video of Dr Chia performing the treatment shows how comfortable and painless it is. In addition to emphasizing its effectiveness, Dr Chia explains how InMode EVOKE treatment in NYC helps ensure social distancing that is mandatory during the COVID-19 crisis. Focused on the health and safety of patients, staff, and facility, bodySCULPT adheres to all COVID-19 protocols.