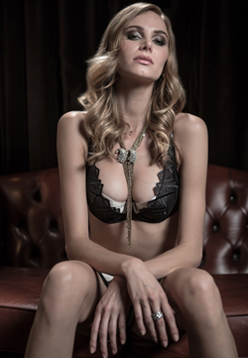 Submental fat or a "double chin" is a common cosmetic concern that both men and women face. It is caused by the buildup of subcutaneous fat beneath the chin along with some amount of loose skin. The 2017 American Society for Dermatologic Surgery Consumer Survey on Cosmetic Dermatologic Procedures indicated that 73% of respondents were bothered by "excess fat under the chin/neck" (www.thepmfajournal.com). In most cases, submental fat does not resolve with even strenuous diets and exercise.
Previously, surgical liposuction was the only option to address this concern. But today, NYC plastic surgeons use advanced modalities that allow patients to achieve their chin contouring goals without surgery. KYBELLA in NYC, neck liposuction and neck lift are three options that allow you to achieve your aesthetic goals without the risks associated with surgery. However, if you are considering double chin treatment, you need to know what exactly these procedures involve and the results you can expect to achieve with each.
Neck Liposuction: Traditional liposuction procedures involve surgical incisions and lengthy downtime. But now, with technological advancements, neck liposuction is performed in a minimally invasive way. Surplus fat deposits under the chin and along the sides of the neck are suctioned out using advanced lipo techniques. Leading plastic surgeons use modalities such as Smartlipo Triplex, BodyTite™, or VASERlipo to perform the procedure. Benefits of the treatment include good skin retraction, minimal blood loss, and negligible surgical trauma and downtime. As it involves local anesthesia and small incisions, neck lipolysis is usually done as an outpatient procedure. In most cases, the treatment can be completed in just one session.
KYBELLA: This is the latest cosmetic treatment for a double chin or submental fullness. The first and only FDA-approved double-chin injectable treatment, KYBELLA can address this concern without surgery. KYBELLA contains synthetic deoxycholic acid, a naturally occurring molecule in the body that promotes the breakdown and absorption of dietary fat. When injected into the fat beneath the chin, KYBELLA destroys the fat cells, and once destroyed, these cells can no longer store or accumulate fat. This results in a noticeable reduction in submental fullness and leads to an improved chin profile. Performed by skilled surgeons, KYBELLA double chin treatment offers patients the same advantages as surgery but without the scarring and lengthy recovery time.
Neck Lift: If loose skin and lax neck muscles are more of a concern than excess fat, a neck lift can help. A neck lift involves a set of procedures and plastic surgeons determine which would be the right option for the patient based on the extent of laxity and correction required. These procedures include:

Cervicoplasty – removes excess skin from the neck
Platysmaplasty – removes or makes changes in your neck muscles
Liposuction – removes excess fat deposits
Botox injections – addresses the horizontal lines or bands on the neck
Is there any difference between KYBELLA double chin treatment and chin liposuction? Well, yes. KYBELLA is a non-surgical solution to the double chin and treats small fat pockets without surgery, whereas neck liposuction can be invasive or minimally-invasive. KYBELLA involves only limited downtime and hardly any pain, allowing you to return to your routine activities in no time at all. Liposuction is an invasive surgical procedure that comes with some additional risks. Since you would be administered anesthesia, recovery time following liposuction also tends to be longer and can also leave a small scar in the area. An experienced plastic surgeon will evaluate patients carefully to determine which procedure will work best for them.
If you are looking for a quick and efficient way to address fat and sagginess in the face and neck area, EmbraceRF in NYC could be the best option. The latest innovation in facial aesthetics by InMode, EmbraceRF provides a long-lasting solution to the effects of facial aging and addresses the lower third of the face, specifically the neck and jowls. This breakthrough facial contouring procedure allows precise sculpting of the lower face and neck with little downtime and is a one-time treatment with permanent results. A combination therapy using Facetite and the new Morpheus8 technology for subdermal adipose remodeling, EmbraceRF takes just about an hour to perform.
All of these options come with obvious benefits, but the best way to know which would be right for you is to consult a skilled plastic surgeon who has extensive experience in performing neck contouring procedures. Choose a reliable AAAASF-accredited plastic surgery practice in NYC for safe, customized treatment.