MORPHEUS8 Skin Tightening Treatment
MORPHEUS8 is an ideal procedure to reverse the effects of time on your face and body! At Manhattan, NYC based bodySCULPT®, our plastic surgeons are experienced in performing deep and safe fractional treatment for the face using Morpheus8. This is a new FDA-approved subdermal adipose remodeling device (SARD) that uses radiofrequency energy to fractionally remodel and contour the face and body. Ideal for all skin tones, Morpheus8 penetrates deep into the skin and fat, and morphs the aging face and body, resulting in the desired smooth and sleek appearance.
WHAT IS MORPHEUS8 TREATMENT?
MORPHEUS8 treatment in NYC can improve various concerns ranging from fine lines and wrinkles to acne scars, uneven skin texture, hyperpigmentation, stretch marks, and stubborn fat pockets.
It is a treatment that
can treat both small and large areas with uniform effect
penetrates 4000 microns with an additional thermal profile of 1000+ microns
stimulates collagen production to tighten the skin
reduces wrinkles on the face and body
improves skin texture
improves acne scars
No needles. No operation. No anesthesia!
No patient downtime!
MORPHEUS8 IN MANHATTAN – MICRONEEDLING FRACTIONAL TREATMENT FOR SKIN REJUVENATION
Morpheus8 employs Fractionated Microneedle RF energy, and is applied to the skin with a cartridge of needles. There is no temperature endpoint but there are settings and depths of needle penetration that correspond to the treatment application.
This FDA-cleared subdermal adipose remodeling device (SARD) delivers the deepest fractional treatments available, penetrating subdermal tissue up to 8mm (7mm + 1mm thermal profile).
TECHNOLOGIES ON THE WORKSTATION
Morpheus8
Morpheus8 treatment in Manhattan is a minimally-invasive Subdermal Adipose Remodeling Device (SARD), designed to remodel collagen and coagulate adipose tissue. This interchangeable portfolio of microneedling tips, with different pin configurations (Prime 12 pin, Resurfacing 24 pin, Morpheus8 24 pin, and Body 40 pin) providing customizable full body fractional treatments.
What Can It Treat?
It is applicable for small hard-to-reach and facial soft tissue areas.
Morpheus8 Body
Equipped with Burst mode RF technology, Morpheus8 Body automatically deploys bipolar RF energy to multi-level treatment depths in a single cycle. It has the ability to target tissue sequentially at three levels. Morpheus8 Body is optimized for – body treatment, facial treatment, peri-orbital treatment, skin resurfacing, and enables customized full body fractional procedures.
What Can It Treat?
It is applicable for large body areas.
Key Benefits of Morpheus8 Skin Tightening in Manhattan
Extremely uniform effect
Quick, long-lasting outcomes
Little to no thermal damage to dermis
Safe on skin type VI with little risk of post inflammatory hyperpigmentation (PIH)
Visible results can be seen within a few days, but typically after three weeks the most noticeable results appear. Improvements continue up to three months after treatment.
Watch the video – Petra Khashoggi Shares her MORPHEUS8 Experience
In this video, Petra Khashoggi shares her personal experience with Morpheus8, the innovative cosmetic treatment provided by our surgeon Dr. Spero Theodorou and describes the entire process from start to finish.
She says "It was over very quickly and Dr. T did a great job. He made me feel very at ease. It wasn't painful. The only area that I got a little bit of a shock was the eyes, but other than that it was fine. It was great. I'm excited to see the results."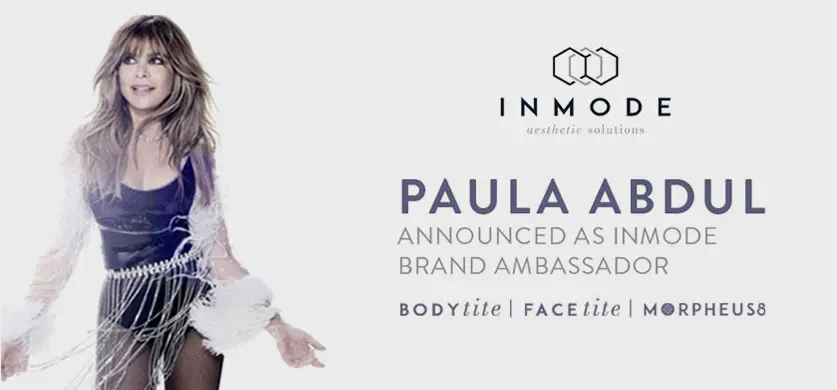 International pop icon Paula Abdul has been announced as brand ambassador for InMode, the medical device company known for inventing innovative technology for minimally invasive aesthetic treatments. InMode's BodyTite system proved the ideal option to sculpt and remodel Paula's arms while the FaceTite and Morpheus8 handpieces addressed her lower face, jawline and neck. Paula is bringing her renewed feeling of confidence and self-assurance to others who want the same benefits. Dr. Theodorou, who is also InMode's Chief Medical Officer noted that, "Paula is an excellent choice as InMode's brand ambassador as she is fit and exercises regularly, but has some areas that trouble her due to past injuries and the effects of aging that overtake us all."
Our surgeons are experienced in performing the breakthrough face and neck contouring procedure using EmbraceRF that combines FaceTite and Morpheus8, two powerful technologies from the industry leader InMode.
Morpheus8 Video: By Dr. Christopher T. Chia
DO YOU HAVE QUESTIONS ON MORPHEUS8 TREATMENT IN NYC?
To learn more about Morpheus8 in NYC and to schedule your consultation with our plastic surgeons, call
1-800-282-7285
or send an email to
info@bodysculpt.com
.