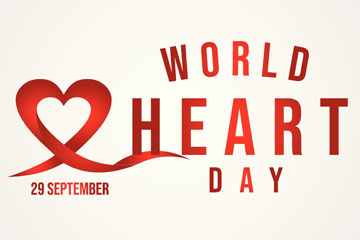 World Heart Day (WHD) is observed on the 29th of September every year in order to raise awareness about cardiovascular disease (CVD), including heart disease and stroke. CVD is the world's leading cause of death claiming 17.9 million lives each year. Created by the World Heart Federation, WHD highlights the actions that individuals can take to prevent and control CVD.
This year, the theme of WHD is "My Heart, Your Heart". We need to make a promise to ourselves, our family, our loved ones and our children to live longer, better, heart-healthy lives.
A promise to our families: To cook and eat more healthily
A promise to our children: To exercise more and help them to be more active, to say no to smoking and help our loved ones to stop
A promise as a healthcare professional: To help patients give up smoking and lower their cholesterol
A promise as a policymaker:To support policies that promotes healthy hearts
A promise as an employee: To invest in heart-healthy workplaces
In short, cook healthier, quit smoking and other harmful activities, exercise more and say yes to a better life for you and your family.
An estimated 17.9 million people died from CVDs in 2016, representing 31% of all global deaths. Of these deaths, 85% are due to heart attack and stroke. World Heart Day aims to drive action to educate people that by controlling risk factors such as tobacco use, unhealthy diet and physical inactivity, at least 80% of premature deaths from heart disease and stroke could be avoided.
So, for MY HEART, for YOUR HEART, for ALL OUR HEARTS, make simple promises such as:
To eat healthy and drink wisely
Add plenty of fruits and veggies, grains, and foods high in omega-3 fatty acids to your diet
Cut back on sugary beverages and fruit juices, instead drink water or unsweetened juices
Keep the amount of alcohol you drink within recommended guidelines
Try to limit processed and prepackaged foods that are often high in salt, sugar and fat
Make healthy school or work lunches at home
Reduce intake of salt, saturated fats, sweets, and red meats
To get more active
Aim for at least 30 minutes of moderate-intensity physical activity 5 times a week or at least 75 minutes spread throughout the week of vigorous-intensity activity
Involve in day-to-day activities such as playing, walking, housework, dancing, because they all count.
Take the stairs instead of the elevator, walk or cycle instead of driving
For more motivation and fun, exercise with friends and family
Note down or use a pedometer to keep track of your progress
To say no to smoking
This is one of the best decisions to improve heart health
Risk of coronary heart disease is substantially reduced within 2 years of quitting,
Exposure to secondhand smoke is also a cause of heart disease in non-smokers. So quitting will not only improve your health but that of those around you
Ask for professional advice if you're having trouble stopping
To maintain a healthy weight:
Being overweight increases your risk of heart disease.
Calculate your body mass index (BMI) and take steps to reduce weight.
Ask your doctor what your weight should be and how to get there.
Regular exercise and a balanced diet can help you reach your ideal weight.
"Make a Promise and Be a Heart Hero". For more information, visit www.world-heart-federation.org.