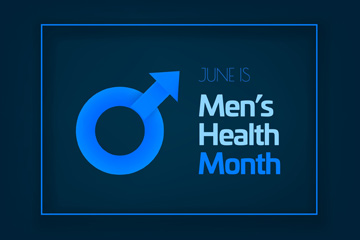 Each year, June is observed as Men's Health Month to spread awareness about preventable health issues and encourage early detection and treatment of diseases such as cancer, heart disease, and depression among men and boys. Hosted by Men's Health Network since 1992, this observance focuses on enhancing men's health and wellness. The official symbol for this annual observance is a blue ribbon. According to the National Center on Health, Physical Activity and Disability (NCHPAD), compared to women, men are more likely to smoke and drink alcohol and generally lead a less healthy lifestyle.
To improve health, consider these points –
Watch your Diet
Make sure you are eating healthy. Include more fruits and vegetable in your diet and limit high calorie foods, red meat, sugar and salt. Reduce alcohol consumption too. A balanced diet should include all important vitamins, minerals, and nutrients to keep your body and mind strong and healthy. This is crucial to reduce risk of various diseases.
General Guidelines for a Healthy Diet
Engage in Physical Activities
Stay active and exercise daily to stay fit, maintain a healthy body weight and reduce the risk of many diseases. Staying fit boosts the immune system and keeps you physically and mentally healthy. Exercise also reduces the risk of early death from heart disease, cancers and other chronic conditions. Studies have also found that regular exercise can reduce the risk of different types of cancer.
Protect your Heart
According to CDC, heart disease is the leading cause of death in the United States, causing about 1 in 4 deaths. Coronary artery disease (CAD) is the most common type of heart disease in the United States, which can lead to heart attack. Key risk factors for heart disease include high blood cholesterol levels, high blood pressure, diabetes, smoking, physical inactivity or family history of early onset of heart disease. To reduce your risk for heart disease and keep the blood vessels healthy, it is important to follow a healthy lifestyle, eat high fiber foods, reduce tobacco use and increase intake of omega 3 fatty acids.
10 Ways to Protect And Improve Heart Health
Quit Smoking
Long-term smoking not only damages your skin and teeth, it also affects important organs such as heart, lungs and brain. According to the FDA, men who smoke are at risk for heart disease, cancer, lower respiratory diseases, stroke, and diabetes. Smokers are up to 20 times more likely to develop lung cancer than nonsmokers. Men who smoke may be at risk of other complications like erectile dysfunction. Quitting is one of the best decisions you can make for your health.
How Smoking Can Ruin Your Appearance
Get Regular Checkups
Make sure to schedule yearly checkups and regular health screenings. Even if you're healthy, regular physical exams help validate your health and identify health issues in the early stages. Early detection and treatment can help slow disease progression. Mayo Clinic recommends that men older than 50 should have a yearly physical exam, and men younger than 50 should have a physical exam every three to five years.
Focus on Mental Health Too
Not just physical health, mental health also requires attention. Conditions like stress can cause serious physical and mental health issues, if it persists for a long time. To reduce stress, anxiety, and loneliness, work on maintaining strong social relationships with friends and family, express your feelings and maintain a positive attitude.