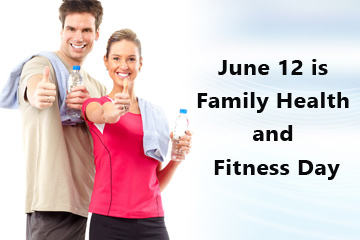 Each year, the second Saturday in June is celebrated as Family Health and Fitness Day. Organized by the National Recreation and Park Association (NRPA), this special day aims at promoting family involvement in physical activities and keeping families and communities healthy. It promotes the importance of parks and recreation in keeping communities healthy. Public parks and recreation improve people's overall health and wellness and create healthy communities. The NRPA considers them essential partners in overcoming complicated challenges such as poor nutrition, hunger, obesity, and physical inactivity. This year Family Health and Fitness Day falls on June 12.
Staying healthy includes diverse aspects such as healthy eating, exercise, weight management, and stress management. As the nation celebrates Family Health and Fitness Day, following these strategies can help you and your family maintain good health –
Exercise: Regular exercise and physical activity improves cardiovascular health, improves sleep, reduces stress, increases attention and learning, and minimizes illness. Set a fitness plan and include all family members. Instead of playing games on the computer, encourage kids to play outdoor games. Consider family bike rides, backyard games, exercise and walks. Get involved in calorie-burning activities such as gardening, house cleaning, etc. Encourage your family members to walk or use a bicycle instead of driving or public transportation.
Maintain a Healthy Weight: Focus on weight management and make everyone aware of the importance of weight management. Stay hydrated and make healthy food choices. Eating right is important to achieve and maintain a healthy weight and energy levels even through busy days. Include fruits and vegetables in your family's diet. Eat slowly, with focus on your meal and not on mobile phones or television. Never skip breakfast, as you may feel hungry may eat more later on.
Get a Good Night's Sleep: Follow good sleep habits. Make sure to go to bed at the same time each night and wake up at the same time each morning. Avoid having a heavy dinner or large meals before going to bed, as the food may not digest well and your sleep will get interrupted. Make sure that your bedroom is relaxing, quiet, and at a comfortable temperature.
Relax: Set aside time to relax. Try meditation or any other relaxation techniques to manage stress and improve mood.
Train your Family on COVID-19 Best Practices: Even if you're engaging in public activities, practice preventive actions to protect yourself. The CDC recommends a mask, tissues, and a hand sanitizer with at least 60% alcohol handy when moving out your house. Also maintain social distancing and maintain a distance of at least 6 feet from other people who are not from your household. Teach your kids to wear their mask properly. Avoid being in crowd or in poorly ventilated indoor spaces. Use hand sanitizer or wash your hands often with soap and water.
By providing facilities, outdoor settings, and services, public park and recreation agencies effectively improve health outcomes for people of all abilities, ages, socio‐economic backgrounds. The NRPA calls for supporting them through national and community level funding and policies so that they can continue to work towards making a positive change in the health and wellness of the nation.