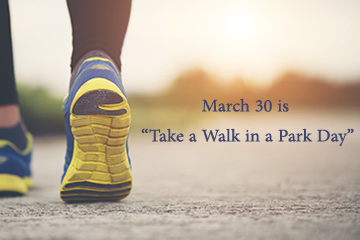 You may be working at home or busy with your daily routine. Here's good news for you – there's a day coming up to break the monotony. Each year, March 30 is observed as National Take a Walk in the Park Day to provide an opportunity for recreation and enjoy nature in the best way. The Day encourages everyone around the world to actively enjoy the physical and mental health benefits while walking in nature.
Take walk in the park, take a long fresh breath and relax! Walking is an activity that comes with tons of benefits –
Walking provides an opportunity to renew your mind and body by watching pleasant sights and hearing sounds of nature
It relieves stress and it's an enjoyable way to add a little extra activity to any part of your day.
Unlike other workouts, walking does not have repetitions or a specific time requirement. You can walk for as long and intensely as you prefer.
Walking can support active recovery, gently warm up your muscles and help you stay active.
It strengthens your relationships as well as your body. You can choose to walk along with your friends or your family or take your pet with you on your walk.
When you walk in the park, you can breathe some fresh air and exercise and relax in a calm atmosphere.
Active walking helps increase heart activity, lower blood pressure, and boost mood.
It burns calories, helps reduce weight, and lowers the risk of obesity, type 2 diabetes, and certain types of cancers
Walking provides the opportunity to capture a beautiful photograph, compose an original poem, or have an uninterrupted conversation with your companion.
Above all, you will get an opportunity to enjoy the beauty of nature's wonders – flowers, trees, birds, and wildlife. Celebrate Walk in the Park Day — wear your finest walking shoes and breathe in the fresh air. Visit your local park for a morning walk or go on a relaxing walk and spend some time with nature in the evening. Encourage your family members too to take a walk and enjoy the health benefits. Share your ideas via social media!