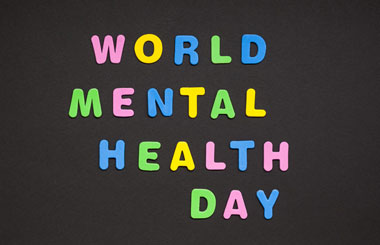 World Mental Health Day (WMHD) is observed on the 10th of October every year for increasing mental health education, awareness and advocacy against social stigma. It is a global observance supported by the United Nations (UN), to raise public awareness about mental health issues worldwide. This event also promotes open discussions on illnesses, as well as investments in prevention and treatment services. The theme this year is "Young People and Mental Health in a Changing World."
It's a fact that young people experience considerable stress related to various things in their life and are not taught how to tackle this issue wisely. Adolescence and the early years of adulthood are the time when many changes such as changing schools, leaving home, entering a new job and so on occur in one's life. Half of all mental illnesses begin by the age of 14, but most cases go undetected and untreated. Moreover, in this digital world, many young people spend their time on the internet engaged in cyber-crimes, cyber bullying, and playing violent video games. All of these activities make them stressed out and frustrated. These issues have been steadily increasing the suicide and substance abuse numbers.
Your mental health or 'emotional health' or 'well-being' is as important as good physical health. The WMHD theme this year would focus more on the mental health of young people in this modern era. According to the World Federation for Mental Health (WFMH), "every year one adult in four, along with one child in ten, will have a mental health issue. These conditions can profoundly affect literally millions of lives, affecting the capability of these individuals to make it through the day, to sustain relationships, and to maintain work." The World Federation for Mental Health (WFMH) is the only international multidisciplinary, grassroots advocacy and education organization concerned with all aspects of mental health.
Even though there are several things that help to build mental resilience from an early age itself from mental distress and illness, one of the best ways to manage and prevent this unhealthy mental condition is by having better understanding. According to the WHO,
Prevention begins with being aware of and understanding the early warning signs and symptoms of mental illness
Parents and teachers play an important role to help build life skills of children and adolescents and help them cope with everyday challenges at home and at school.
Psychosocial support can be provided in schools and other community settings and of course, training for health workers to enable them to detect and manage mental health disorders can be put in place, improved or expanded.
Mental health awareness programs help peers, parents and teachers learn how to support their friends, children and students respectively. Also, by following certain tips you can build good mental health yourself. When we practice good mental health, it is easier to handle stress and other problems, because good mental health is more than just the absence of mental illness. Here are some valuable tips to follow:
Take proper care of your body: If you take proper care of your body, then your mind also gets proper care because our bodies and minds are connected. Follow a healthy diet and exercise routine. You should also make sure that you are having good sleep during the night, because sleep has a huge effect on mental health. When we get enough sleep, it is easier to cope with stress, handle problems, concentrate, think positively and remember things.
Build good relationships: Surround yourself with good people, as having good relationships with people contribute to a sense of wellbeing. Choose friends who have similar interests to you, respect and appreciate who you are, and who make you feel happy. Share the good times with them and learn from each other.
Follow healthy thinking: Like happiness, problems are also a part of life, which you have to tackle smartly. Good mental health does not mean that we only have happy thoughts, but it also means having the ability to deal cleverly with problems and practice healthy thinking.
Identify and utilize your strengths: People would have different strengths and weaknesses, but it is up to you to identify these and work on them. Identify your strengths and use them accordingly to increase your wellbeing and don't let your weaknesses beat you.
Always stay happy: The easier way to cope with stress and other problems is to do things that make us happy and active, so that it keeps us refreshed and feeling good about ourselves.
Mental health illnesses can be easily cured if identified and treated at an early stage itself. So, if you are feeling unwell and nothing seems to help, it is important to talk to a doctor.