Among all other important preparations, getting flawless, radiant skin is something every to-be-bride wants on her wedding day. No matter what her wedding style is (traditional or modern, fancy or simple), all a bride wants is to look stunning on her big day as she is the centre of attention. Makeup may make you look gorgeous even if your skin is not flawless, but the fact is healthy skin is crucial for providing the right canvas for applying makeup.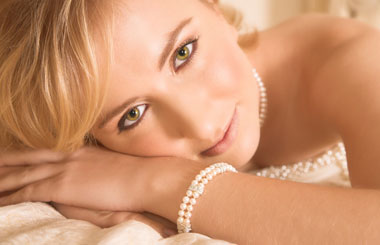 For glowing, unblemished skin you have to take care of your skin properly, and when it comes to skin care and beauty preparations there is no such thing as starting too soon. So, follow certain pre-bridal skin care tips that can make your skin clear and luminous.
Revamp your skin care routine and follow it religiously for an extra boost of radiance. Start preparing at least 3 months before the big day so that you give your skin some time to get ready.
Healthy Diet: While revamping your skin care routine, it's also important to follow a healthy diet, because a perfect diet is a must for a to-be bride to get in shape. It also gives a healthy glow to your face. Drinking plenty of water not only keeps your body hydrated but also helps to have clean, acne-free and gleaming skin. Include watermelons, grapefruits, broccoli and lettuce in your diet, all of which are a great source of hydration for your skin. Avoid spicy food, tea, coffee, cigarettes and rich, fatty foods.
Regular exfoliation is a must to help improve the overall texture of your skin, but it is fully dependent on your skin type and how lenient your complexion is to different types of manual and chemical exfoliation.
Try to include healthy Do It Yourself skin care. For example, apply some face mask made of natural products to bring a glow to your skin. But make sure you are applying a face pack that is suited for your skin type. Not all packs are good for everyone, understand your skin type and apply the face pack accordingly, else it may cause breakouts.

For Normal Skin: Mix a tsp of gram flour, a pinch of turmeric powder, a few drops lime juice, 1/2 tsp each of olive oil and milk. Apply on the face and leave it on for half an hour. Wash off.
For Oily Skin: Take some clay powder (fuller's earth) and add rosewater to make a thin paste. Apply over the face and leave it on till completely dry. Wash off with water.
For Dry Skin: Take a spoon of milk powder and a few drops of lemon juice. Make a paste and apply on your face. Wash off after 20 minutes.
For Treating Acne and Pimples: Wash and grind a few mint leaves and make a smooth paste. Apply all over your face in the night. Wash off in the morning.

Remove your makeup before you go to bed, because leaving makeup on overnight could clog the pores on your skin and lead to breakouts.
Clean your makeup brushes: Make sure you clean your makeup brushes to avoid any bacteria build-up on your skin. Wash them with shampoo, rinse and hang to air-dry with the bristles facing down.
Getting professional facials every month, or twice a month facials at home is very good (cleanse, steam under the shower, exfoliate, mask and moisturize).
Brides experience a lot of stress and get nervous worrying about their D-day look, and this stress can cause breakouts. So, to prevent such breakouts, it is a must to de-stress and keep your worries away. Make sure to sleep for at least 7-8 hours. Yoga can also help to calm the mind and balance the body.