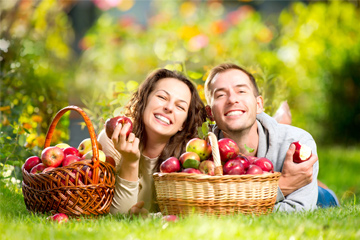 Change in season can be a challenge for our healthcare routine. Change from hot summer to cold fall is an example. To cope with shorter days and cooler temperature of this season, make sure you follow some healthy habits. Take steps to prevent flu and cold, and enjoy the last days of the year safely. Focus on overall health and wellness this season.
Focus on your diet
Make sure to eat healthy. Include vegetables, fruits and whole grains in your daily diet. WebMD recommends adding beans in your diet, as it is rich in protein, iron, folic acid, fiber, and potassium. Beans also add flavor and texture to soups. Fall vegetables such as brussels sprouts, cabbage, eggplant, carrots etc. help to prevent diabetes, control hypertension and improve heart health.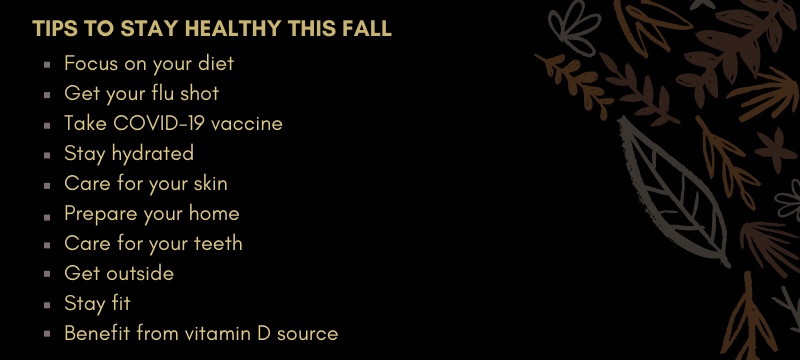 Get your flu shot and yearly check-up
Fall is also the season for flu and cold. Influenza (flu) viruses typically spread during fall and winter. So, getting flu vaccines now can reduce the chances of getting the flu. Flu is a serious disease, caused by the influenza virus. This vaccine will trigger the immune system to produce antibodies to protect against the disease.
Take COVID-19 vaccine
Even if you get the flu vaccine, make sure to also take the vaccine against COVID-19. The FDA has approved one vaccine for the prevention of COVID-19 and has issued emergency use authorizations (EUA) for three vaccines to prevent COVID-19. To stay safe, make sure to wash your hands frequently, use a hand sanitizer, and wear a mask when in indoor public places.
Stay hydrated
As you may not be thirsty, you may forget to hydrate during fall. Drinking plenty of water will boost the immune system. It is ideal to drink 8-12 cups of water in any season. Make sure to drink more if you are exercising, as sweating reduces body hydration. Keep a bottle full of water handy so that you remember to take frequent sips.
Care for your skin
Skin care differs for each season. As the harsh temperature characteristic of the fall season can make your skin dry, consider using a moisturizer that suits your skin. Also, consider wearing sunscreen to protect your skin from UV rays.
Prepare your home
Make sure your home is also ready for this season. Clean out the clutters and do some spring cleaning in this season. Check those batteries in your flashlights and whether heat sources are working.
Care for your teeth
Get regular dental checkups even during holidays. Control your Halloween candy cravings, as eating too many sweets can lead to dental cavities. Brush and floss daily to keep your teeth healthy this season.
Get outside
Enjoy the cooler temperature outside. Take your pet for a walk. Spending time outdoors is good for your physical and mental well-being. It can reduce stress levels and improve your mood. Chronic stress can impact your health badly.
Stay fit
Regular exercise is not only good for physical health, but also for managing stress, for weight loss or management and thus for overall well being. Make sure you get enough sleep as well. Also, consider strength training, yoga, and online workouts to stay active.
Benefit from vitamin D sources
As the amount of sunlight decreases in the fall, consider other food sources such as salmon, sardines, tuna, milk, orange juice and fortified cereals to get vitamin D. Vitamin D supplements can prevent deficiency to a great extent.