bodySCULPT®, based in Manhattan, NYC, has introduced InMode EVOKE, the first and only all-in-one, hands-free facial remodeling device in their practice. It is an FDA-cleared, non-invasive facial remodeling device that remodels facial tissue and delivers the ultimate in thermal facial procedures.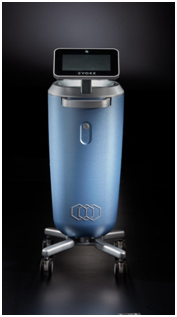 Facial remodeling is one of the top aesthetic procedures patients seek to achieve a youthful appearance. Evoke's proprietary non-invasive technology is an industry-first in delivering a structural re-organization of the facial and neck tissues resulting in a three-dimensional remodeling. This state-of-the-art thermal skin rejuvenating platform revitalizes your face, neck, chin, cheeks and jowls with no surgical intervention, anesthesia, surgical scars or downtime.
One of the major reasons for the development of this advanced thermal skin rejuvenating platform is the increase in demand for a non-surgical, customizable and effective solution for people to achieve their aesthetic goals. In 2018, the Medical Aesthetic market was estimated to be worth approximately $16.5 billion, with over 17.7 million procedures performed and from that 15.9 million procedures were accounted as nonsurgical procedures, with 73% (11.6 million) conducted on women 40-55+ of age. On a revenue basis, minimally invasive facial remodeling procedures generated $7.1 billion, or 83% of all minimally invasive treatment revenue. Of the 15.9 million minimally invasive procedures performed, over 12.2 million (77%) were facial remodeling treatments linked to achieving a more youthful appearance.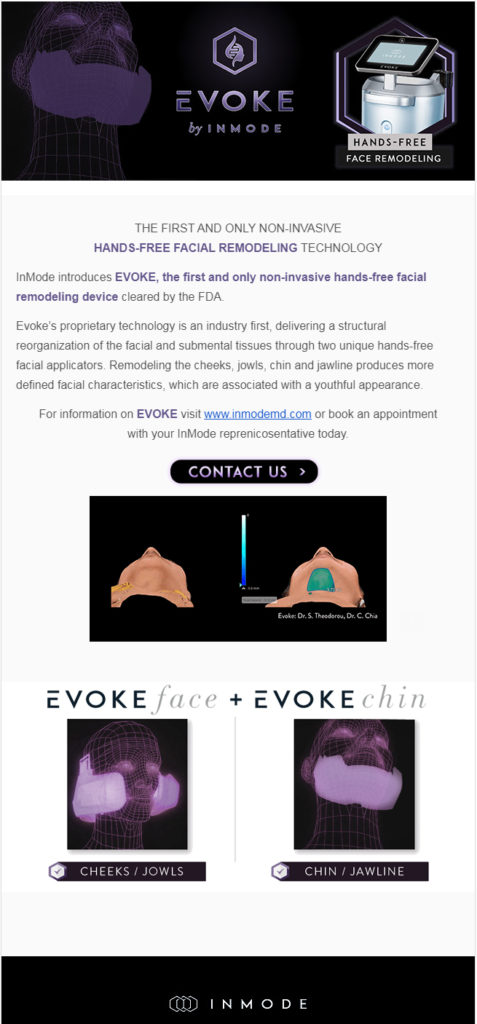 EVOKE uses proven bipolar radiofrequency energy to sub-dermally remodel the facial tissues for a more defined neck and jaw line. This programmable technology by InMode with unique design is the only platform to have temperature monitoring and automatic, user-programmable, temperature on/off control.
RF energy is sequentially delivered to each applicator, providing even heat distribution across the treatment area. If the skin temperature reaches a threshold level, RF energy is temporarily suspended to the specific applicator, protecting the skin from burns. Evoke continues to work according to this algorithm throughout the entire procedure. Pre-set treatment parameters allow for controlled 100% energy concentration at critical temperatures. This provides soft tissue remodeling and the ability to deliver optimal results. With one platform, physicians can provide a variety of facial remodeling procedures specifically tailored to patient demands.
Built with patient safety in mind, the safety features of EVOKE include:
Temperature monitoring and automatic, user programmable, temperature on/off control
Built-in real-time audible indicators sound when the optimal temperature is reached, providing feedback on treatment progress.
A Patient Call Button to allow patients to easily pause treatments and have clinic staff make any adjustments required.
The hands-free design and programmable technology allow safe reallocation of physician and clinical staff time to other patients and treatments while Evoke is in use.
The treatment screen enables physicians to visually monitor the thermal effect of each applicator at any point during the procedure.
Color-blind RF technology ensures it can safely and effectively be used on all skin types.
One of the major advantages of this treatment is that patients can surf the internet, read a book, and watch TV while treatments to restore youthfulness are being performed.
More questions and answers on Evoke
bodySCULPT®, a leading plastic surgery practice in Manhattan, New York City (NYC) is one of the first plastic surgery centers in the U.S to introduce EVOKE technology. Dr. Spero Theodorou, Chief Medical Officer at InMode is also responsible for the development of all of InMode's procedures, clinical studies and training. bodySCULPT® plastic surgeons Dr Theodorou, and Dr. Christopher Chia who co-authored Emerging Technologies in Face and Body Contouring with Dr. Theodorou, are experts in body contouring techniques. These doctors are among the best plastic surgeons in New York City and ensure effective treatment tailored to individual patient requirements.

See more before and after photos
Evoke maximizes patient results and provides the highest quality of aesthetic facial remodeling treatments available. If you are considering EVOKE in NYC, then choose an AAAASF-accredited plastic surgery practice that provides the service of expert plastic surgeons well-trained in this procedure. Such surgeons can provide you with all the information regarding the procedure and determine whether you are a candidate for the same.