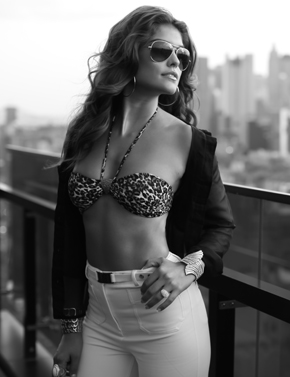 Everybody dreams of having the ideal body. Cosmetic surgery can help you look your best, but most of us are put off when we hear the work 'surgery'. The good news is that there are many innovative, cosmetic treatments available today that can effectively address your trouble spots – with minimal risks and recovery downtime. Let's take a look at these exciting options, which may involve minimal or no surgery.
A Trim Abdomen
Do you want a flatter stomach? While a tummy tuck can address that excess fat and loose skin and result in a trim mid-section, there's a new a non-surgical approach called Vanquish that works equally well. This painless procedure uses radio-frequency (RF) energy and can help eliminate 60 percent of the fat cells in just four treatments.
Shapelier Breasts
Significant augmentation would require breast implant surgery. But if you are for subtle improvement with natural looking results, minimally invasive fat grafting could be the answer. This procedure uses your own fat from another part of the body for the augmentation. There is hardly any scarring as the fat is removed via a minimally invasive liposuction procedure and injected into the breasts. A lunchtime breast lift is another option that provides temporary enhancement, ideal when there is a special occasion or event coming up.
An Attractive Posterior
With celebrities showing off their shapely derrieres in pictures posted online, buttock augmentation has become one of the most requested cosmetic procedures among women. There is no need for butt implants to achieve this goal with the Brazilian butt lift. This non-surgical procedure is also based on fat transfer, the procedure that uses fat from one area of the patient's body to enhance another.
A Youthful Looking Chin
Zap that double chin with Kybella. This path-breaking FDA-approved injection can provide greater definition to your natural jaw and neckline by literally dissolving submental fat – the excess fat in the chin area. Recovery is also quicker than with chin liposuction.
A Sculpted Silhouette
If you thought that liposuction is the only answer to a sculpted body, you're wrong. A new noninvasive option, CoolSculpting, is making news for its safety and effectiveness. FDA-cleared, this procedure contours the body by freezing away unwanted fat for good without surgery or downtime. The dead fat cells are eliminated via the body's naturally processes.
While these novel cosmetic treatments are a great alternative to surgery, getting the best results would depend on the provider. Established plastic surgery practices in New York City offer these non-invasive procedures. Choose an AAAASF-accredited NYC plastic surgery practice with experienced plastic surgeons for an optimal outcome.